CargoOffice is a powerful, cost effective web-based freight management system.  
Designed to be simple to use but configurable enough to handle the most complex of workflows.
Web-Based
Cargo Office is hosted on the web. No software to install, no hardware to maintain. Subscription based software with ongoing support for your staff.
COMPETITIVE advantage
Mid-tier road transporters can now compete with the large companies at a fraction of the cost with online order entry, track and trace and sign on glass.
System integration
Easily communicate and integrate with TMS and FMS systems. We currently support a variety of transport modes from HTTP and FTP to Web services and email and file types such as CSV and XML. If we don't already support it, we can build it for you.
Billing and Invoicing
Invoice through CargoOffice or use your own. Our software integrates with accounting packages such as MYOB and Reckon. See how our MYOB integration works.
Enterprise grade servers
Our software is hosted on Google's enterprise grade data centres on a pool of redundant, fully maintained and upgraded servers. We support Google's commitment to 24×7 carbon-free energy.
Support
Unlimited support by phone, email or through our bug tracking system. Our online 'help' library is available 24 hours a day.
OVERVIEW OF A TYPICAL WORK FLOW
1
Your customer places an order in your CargoOffice.
2
Your operations team review, update (if necessary) then dispatch the order.
3 The order is physically actioned accordingly.
4 Documents and updates are automatically sent to your customer.
5 An invoice is sent to your customer the instant the job is complete!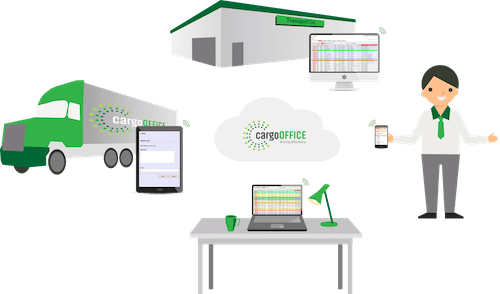 We here at Coynes Freight Management Group have been dealing with CargoOffice and CombineIT for some seven years and have found the software and service exemplary…. The flexibility of the software customised to our needs is a joy to behold. It truly embodies the K.I.S.S. principle in development and application. As a consequence we enjoy a leading edge in the marketplace for EDI customer interface both integrated and online, and can attribute the success of obtaining and retaining (at least in part) some of the biggest accounts in our business to CargoOffice.
From a service perspective, the communication and support has been prompt, efficient with a minimum of fuss, and a real can do attitude. Such a breath of air in an arena where such businesses are notorious for passing the buck and not taking responsibility… On a number of occasions, Mark from CombineIT has been presented with a service failure which ultimately was not their fault but at the time were willing to do the investigation on our behalf to get to the bottom of the issue where other software service providers would hold their hands up and turn a blind eye.
We as a Company and I personally have become very dependent on CargoOffice and CombineIT and would highly recommend both Mark and the CargoOffice software to any company operating in the Logistics Industry.
Enquiries
Please contact us to find out more about our online freight management system
CargoOffice
Book a demo
Complete the form below and we will contact you to arrange a demonstration of the CargoOffice Freight Management System.